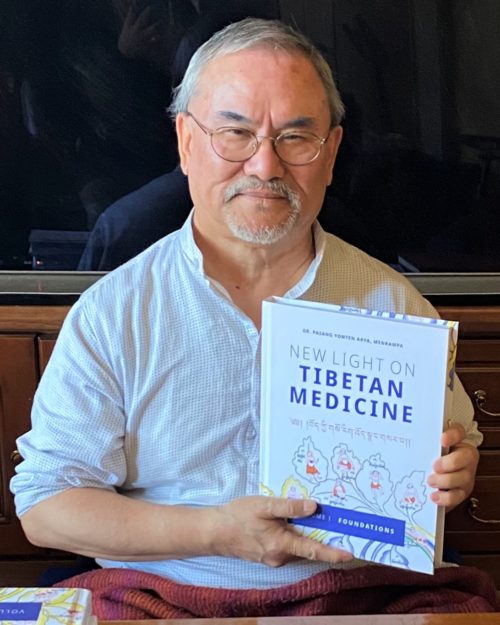 Last Sunday, on May 1st, we hosted a book launch event online to celebrate the release of New Light on Tibetan Medicine: Volume I – Foundations.
Dr. Pasang Yonten Arya (Genla) opened this meeting attended by TME students and graduates, the Bedurya Publications team, Sylvie Béguin (TME co-director), and Genla's daughter Donyod Drolma Arya by saying: "This is the most important day of my life."
After welcoming everyone, taking refuge, generating bodhicitta, and paying homage to the Medicine Buddha and Lama Yutok, Dr. Pasang lit a small candle. He invited all participants to pray together that the darkness of ignorance and suffering may be dispelled by the light of insight, and especially that the New Light books may benefit countless beings.
Next, Genla formally opened the book and showed its contents to us, which felt like a blessing, an authorization, like a transmission or even empowerment. Genla then recited a short poem:
།རྒྱ་མཚོ་ཆེན་པོ་ཆུ་ཡི་གཏེར།   །ཡེ་ཤེས་སྒྲོན་མེ་མེ་ཡི་གཏེར།
།བདུད་རྩི་སྙིང་པོ་ཚེ་ཡི་གཏེར།   །འོད་སྣང་གསར་པ་སྨན་གྱི་གཏེར།
The great ocean is a treasure of water,
The wisdom lamp is a treasure of light,
Nectar essence is a treasure of life,
New Light is a treasure of medicine!

Sharing parts of his life story on the difficult circumstances in which his early hand-written publications came into existence, and the ups and downs of living in Europe, he concluded that "everything needs time to mature, like a blossoming flower." The New Light series is the final result of decades of study, research, practice, and teaching. It is a bridge between East and West, carefully constructed and realized through practice-based experience. Although "not different from the Gyüzhi" (the Four Tantras), Dr. Pasang emphasized that the book reflects his contemporary understanding and is not just a collection of quotations from traditional sources. His original teachings were written down and accumulated over the years (while teaching more than 700 students!), going through endless cycles of revision and expansion until he felt confident. Whatever he was unsure of was not hidden, but pointed out as an avenue of future research.
I (Jan) have been working on the extensive manuscripts of the New Light series since 2016, bombarding my teacher with hundreds of questions. During the online celebration, Genla explained that all this time, his aim was to get me to truly understand his perspective by letting me directly experience the teachings. By transmitting realization, the master helps the disciple reveal the nature of their mind.
But one author, even with the help of an editor, cannot fulfil the huge task of composing such a work on his own. "We are all interdependent," Dr. Pasang reminded us. In this way, all of his students and colleagues, everyone connected to TME, the New Yuthok Institute, and so on, has contributed to the completion of this book. "Thank you all so much!"
Near the end of the meeting, Segyu Rinpoche—who has been Dr. Pasang's long-time friend and student—rolled out and offered three white khatak scarves: for Genla, Sylvie, and me. His humble words of praise and gratitude were moving: "This book is an unbelievable joy in my life." Rinpoché also gave special attention to Sylvie's immense dedication and efforts to making Tibetan medicine education available worldwide. Dr. Nathan Kaehler also spoke beautifully about how an unfulfilled wish was granted when he serendipitously discovered TME's online course about ten years ago, and how this changed his life and allowed him to help so many more people. In the Zoom chat and through e-mail, we have received many more congratulations and good wishes, including from Sowa Rigpa colleges, libraries, and research institutes that will receive donation copies of the newly released book.
All this confirms that the fact that New Light's Foundations is now for sale must really be some kind of landmark for Sowa Rigpa globally. Up to this point, no contemporary yet comprehensive Tibetan medical textbook had been available in any Western language. As a comparison, a 25th anniversary edition of the now 1,300+ pages The Foundations of Chinese Medicine came out in 2015, and the third Textbook of Ayurveda volume appeared in 2012. Now, Tibetan medicine is finally catching up with its older siblings of the Asian medicine family.
May everything be auspicious!